The Summer months are hot here in Destin, Florida, so spend your day cooling off and relaxing on a trip with Captain Bryan aboard the luxury pontoon boat "Sail Away." You will be nothing less than delighted with your personally designed, private charter (up to 6 guests) that will take you to an array of activities, including the world-famous Crab Island and many other secret shelling, snorkeling, and sand-dollar dive spots. His 'eagle-eye' affords him great vision, and he can easily spot sea life and wildlife. As a result, your trip will likely get you close to many of our local creatures, including dolphins, sharks, bald eagles, rays, ospreys, and pelicans.
Family-Friendly Charters
Captain Bryan will ensure that your family and friends have a charter that is one of a kind. There is something for everyone aboard this boat, so feel free to mix up your company and personalize the charter to be your own. Life jackets on board will fit small children to adults, so we welcome families for fun hermit crab races and noodle races, all done in shallow, protected waters.
In addition, we provide footballs, volleyballs, frisbees, and all the snorkeling gear necessary. For the adults, there is a giant lily pad, paddle board, and a sound system that will rock whatever your music preference may be!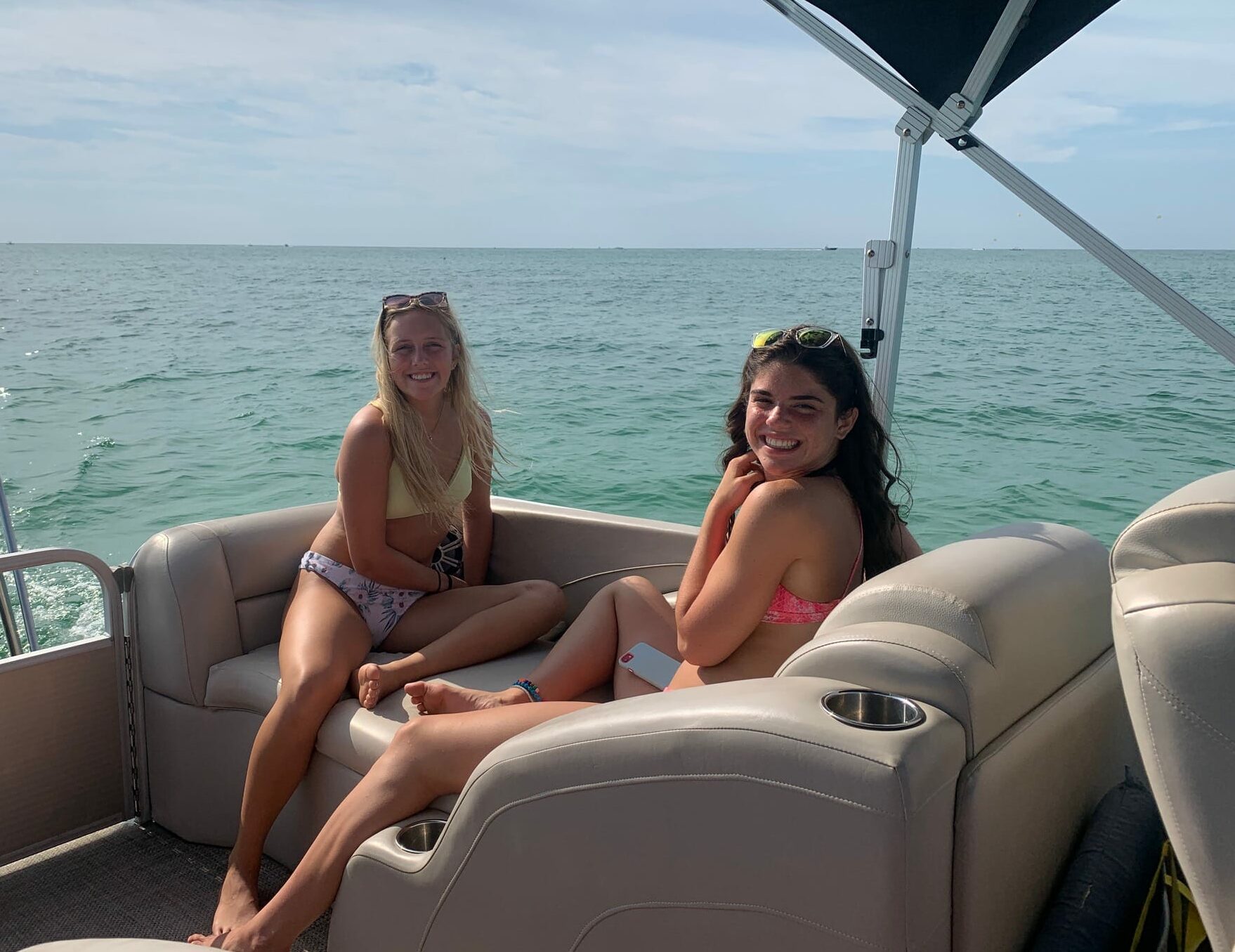 Like a Living Room on the Water
Sail Away Pontoon Charters appeals to all! The boat also has a shaded canopy to sit under, so you can beat the heat if necessary, or the comfortable wraparound seating and lounge chairs offer a place to stretch out and enjoy the sunshine.
Captain Bryan provides a large cooler full of ice, so feel free to bring whatever you want to eat or drink (glass is acceptable), and he will load the cooler for you. Aboard the pontoon charter, you can kick back and enjoy the ride!
Follow the link to learn more about Captain Bryan and his boat Meet Your Captain - Sail Away Destin Florida
Book A Pontoon Charter
Captain Bryan has been chartering the waters of Destin for decades. He has won the Trip Advisor Travelers' Award since 2010 and is continually recognized as one of Destin's Top 10 things to Do. He is very personable and has a wealth of knowledge about the local area, so he makes an Excellent tour guide. Because of such, he has many guests that continue to come year after year. If you want a friendly, safe, fun, and relaxing pontoon charter, this is the boat and captain for you.
Sail Away pontoon boat is located behind Marina Café in downtown Destin and free parking is available. If you are ready to book your pontoon charter, please call 850-376-4757 for reservations.
*Don't forget your snacks, sunscreen, towels, and cameras – He will provide everything else!