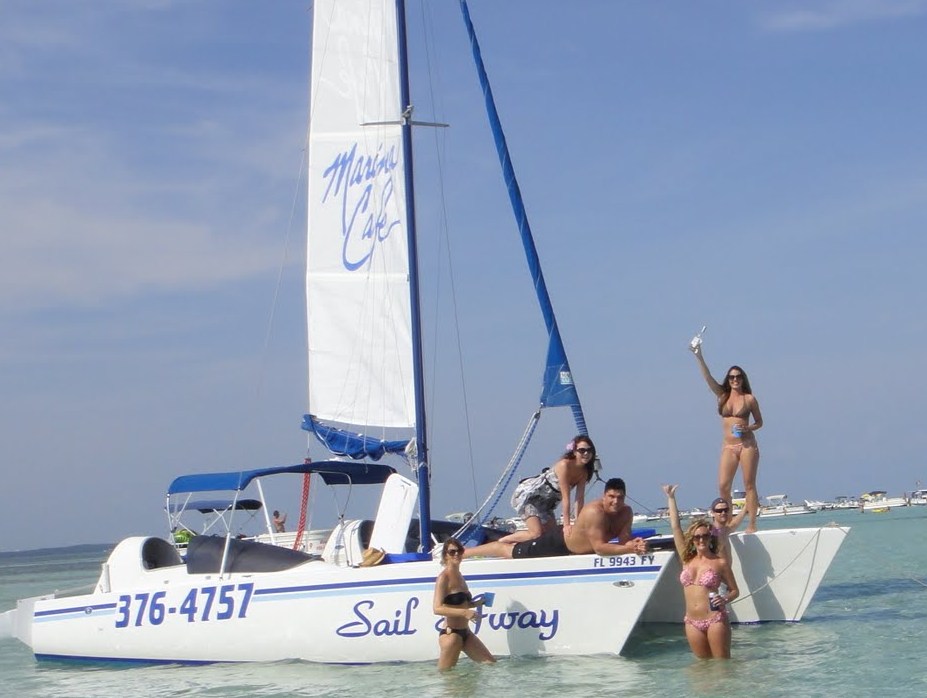 Weekend Parties At Crab Island
One of the locals favorite places to party in Destin, Florida is on Crab Island. Crab Island is a 1 to 3-foot depth of water on a sandbar next to the Destin Pass bridge. With the clear and shallow water, it is safe to party, play watersports, snorkel or even sunbathe on the deck of the sailboat while enjoying the gorgeous views of the Emerald Waters. Spring Break and Summer in Destin Florida are the most popular time to visit this awesome place in Paradise.
Plan your private party on our sailing charter today! You will love sailing on our catamaran and enjoy a private party for the biggest water party in Destin. You are able to customize your sailing charter to make it everything you want. All of our sailing charters can be combined with any other charter for a day filled with fun in the sun.
Enjoy Crab Island With A Private Charter
At Crab Island, you can enjoy water snorkeling Monday through Friday or party with the locals on the weekend. Average depth is 1 to 3 feet so it is safe and fun for everyone. The only way to reach Crab Island is by boat. Why not sail on a private charter and have the luxury of your own private boat while having a good time on your vacation? This unique Island also has food and drink boats for your enjoyment during the Spring and Summer months..
This spot isn't just for the grown-ups. There is a floating bouncy house for the little ones to enjoy. It's enough fun for the entire family. Plan an entire day at sea with us to get the most out of your sailing charter. You do not want to miss the coolest spot in Destin. Come sail away with us!